WE MAKE EFFICIENT HOUSE CALLS . . . possible!
---
Imagine . . .
You get home from work and find a sick child. They don't feel well and the pediatrician's office is now closed. But wait, the doctor just told me about a new Televisit service (Text-a-Visit™) available from their website. With a few clicks, an appointment is made. A few minutes later, a text message comes in with a link to start the Televisit. As the pediatrician comes into view, I realize that the doctor just made a house call!
Increase Revenue - Prevent Losing Revenue
Patients that are sick at home or at work need immediate care and don't want to travel to the physician's office. With the advancement of technology, care can now be provided on the moments notice, even where you are not in the office. Virtual visits allow free time to be used for patient care. Visits are more efficient for both the patient and the provider, because there is no waiting or travel time.
Improve Patient Satisfaction
In today's mobile-connected world, patients expect care to be provided on their time and when they need it. Traveling to an office can be very time consuming and a major burden. Working adults often do not have time to travel to a providers office for care. Bring a sick child into a doctors office places more stress on the child and expose healthy patients to illness. Home Televisits are the solution.
How it Works
Patient schedules a Televisit by calling the office or online via a link to our Patient Portal.

At the time of the visit, the patient receives a Text-a-Visit  with a link to the video call or an email or can login to the patient portal.  

Once the provider selects the patient, they will see if the patient is online and can start the call.

The browser opens for the patient and provider on the phone, tablet or PC. Each user is asked to allow use of the mic and camera.  

The EHR or any other software can be used during the call to document care, so it works with any EHR or application.

When you are finished, just disconnect the call.
No Waiting Room Required
With Enablemypractice Televisit, patients don't have to wait online for a provider. The provider can text or email when they are ready. Patients can wait via their secure portal, but it is not necessary.
Fits Every Practice
Our Televisit solution works with any EHR. Patients and schedules can be exchanged via APIs or CDA files, but data exchange is not required. You can also use the Enablemypractice EHR for a low monthly fee or per patient fee. Our Video Call technology from HD video quality over a point-to-point connection. Enablemyhealth manages the authentication and log for HIPAA compliance.
Manage Appointments
Enablemyhealth includes a free patient registration and graphical calendar with the ability for patient's to request appointments and enter medical information to share with the physician.  Televisit solution does not require use of our appointments and registration. Appointments support multiple facilities and providers. Patient Registration allows patient demographics and insurance to be entered.  Optional patient insurance eligibility and patient estimates is available.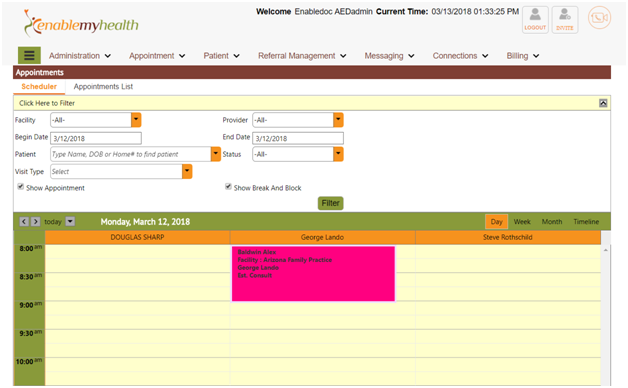 Patients can request appointments online and see what times are available. Requests can trigger email or text alerts to the office staff or provider.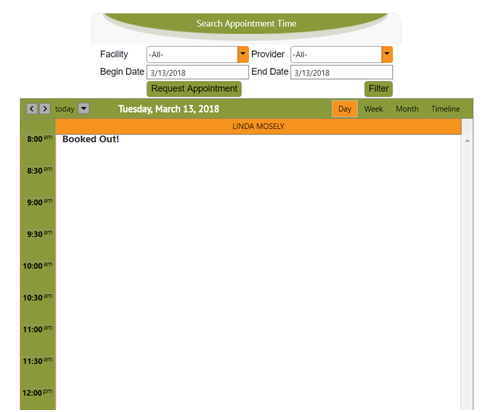 Take Payments
Assign payment by type of problem(s). Charges, CPTs and diagnosis are automatically generated for claims processing. Credit and debit card payments are processed and tracked. Advanced reporting package is included for appointments, demographics, and billing/payments.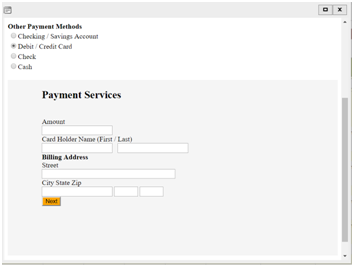 HIPAA Compliant and Secure
All visits are logged and all data accessed is tracked. All data and communications are encrypted.
Technology
Our Virtual Care HD video technology uses webRTC, which now operates on Chrome, Firefox and Safari on your iPhone, Andriod devices, and PCs. Also, supported calls with staff or colleagues. All calls are secured via our certified portal and EHR.  All calls are point-to-point for the highest reliability and quality.